Construction Almost Finished on Germantown Condo Community
River Lane Holdings, LLC is almost finished with their new community, The Glen at Blackstone Creek Condominiums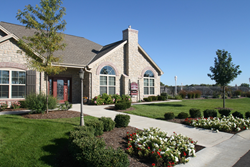 Germantown, WI (PRWEB) November 02, 2014
Germantown, WI River Lane Holdings, LLC is nearing completion on their new Southeastern Wisconsin condo community, The Glen at Blackstone Creek Condominiums. Construction will soon be wrapping up and these Germantown condos are available for move in between now and spring of 2015.
The Glen at Blackstone Creek Condominiums has already garnered a lot of attention, and any interested buyers need to act soon to claim one of the units. This condo community offers both detached and side-by-side units, creating a neighborhood carefree lifestyle. Each unit has its own entrance and private outdoor area, whether a patio, deck, or both. Each home will also have its own private entrance with driveway and garage.
These condos are being built with a ranch style floor plan, offering open living areas, gourmet kitchens, and basements in some units. They are customizable condos, provided buyers act fast and claim their new home early in the construction process. Design options are available for owners to choose from, along with flooring, cabinetry, and countertop personalization. One of the amenities that has brought about the most attention is the maintenance crew, meaning that residents will get the luxury of owning a home, but without having to worry about shoveling snow or maintaining the landscaping around the home.
The Glen at Blackstone Creek Condominiums is located in Germantown, a few miles from Highway 41/45. The sales center can be found at N114 W17844 Blackstone Court, and is open from 11 AM – 4 PM Wednesdays, Sundays, and by appointment. Contact Bailey Copeland for more information at 262-893-1720.
This article: 
Construction Almost Finished on Germantown Condo Community